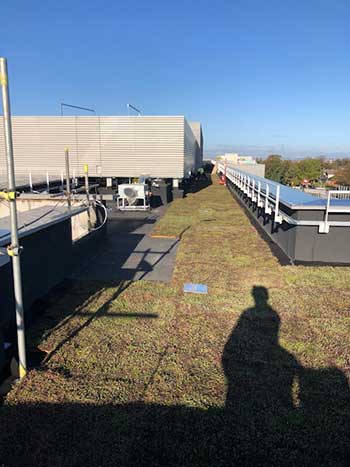 We can install your green roof on your commercial or company facilities. All that is needed is a flat surface area for us to install your green roof on.
Why Invest In A Green Roof?
A green roof supplies a rainwater buffer, cleanses the air, lowers the ambient temperature, controls the indoor temperature level, saves energy and encourages biodiversity in the city. Green roofings are a part of to climate-proof building and construction. What's more, people are happier in a green environment than in grey surroundings.
Setting up a green roof on your house or industrial residential or commercial property's roof offers many advantages:
Biodiversity
Structural Protection
Sound Insulation
Temperature Regulation
Extends life span of your roof
Rainwater Retention
BER Ratings
Aesthetics
Air Quality
Provides a rainwater buffer
Erosion protection
On roofs exposed to a lot of wind pre-cultivated plant life blankets guarantee that the substrate will not be blown away in a storm.
For more information on our green roof installation services please contact us.